Team Church continues to live out it's Covid-19 church calling of being open for those who need and desire an in-person Sunday service,
while also ministering to those who are not able to physically join us on Sunday mornings.
If you are not on campus, we are providing live streaming for BOTH of our Sunday services.
Go to
live.team.church
on Sundays at 9:30 and 11:00 am for live-streaming.
Catch up on any messages you may have missed at
TeamChurch.com/watch
.
HURRY SIGNUPS END SOON!!!
Saturdays March 13 - May 15 at Team Church
Both our flag football and soccer programs will be divided into two age groups (2nd-3rd grade and 4th-5th grade), and will focus on instilling the proper fundamentals of each respective sport. The first Saturday, March 13th, will be a scrimmage day. The last Saturday, May 15th, is our playoff day where champions will be crowned! Practices will be conducted on Saturdays before the games.

Signups close on Saturday February 13th. The cost for football and soccer will be $80 and the cost to participate in cheer will be $40. The button below will take you to our sports website. You will need to make a SportsConnect account in order to register, which can be done during the sign up process. Please contact Brad with any questions at BradMeadows@TeamChurch.com.
Tuesdays at 5:00 pm at Team Church
Kids on the Run is a weekly physical & spiritual exercise for elementary-aged kids. The goal is to complete a 5k at the end of our season. Runners will be challenged to take home a weekly "spiritual workout" to engage their hearts and minds with the Word of God.
Sundays at 11:00 am in the Flex Room
Ready to take the next step here at Team Church? The Team Church Way is a four-week program designed to introduce you to who we are as a church and help you find ways to get connected.

Regardless of how long you've been here, the Team Church Way will empower you to take the necessary "next steps" to facilitate your life-long spiritual growth process in Jesus. It is our hope that you will not only learn some interesting facts about Team Church, but you will also discover who God has created you to be, and in that discovery, we will TEAM up to see the lives of others impacted with the message of the gospel.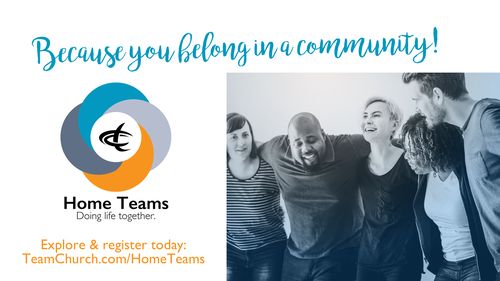 We have a variety of small groups that we call Home Teams that meet on a semester schedule (Fall & Spring). They are one of the best ways to grow your faith, develop deep relationships, have accountability and serve the community. Click below to see what groups are being offered or find out more about leading one yourself.
4th Sunday of every month (except December)
Ready to take the next step? If you have given your life to Christ and are ready to go public with your faith, then register for baptism button below and we will get you in the next baptism class. Maybe you are not sure what it means to give your life to Christ but are interested in checking it out, simply click the Baptism picture to the left and learn more.
Moms of Children with Special Needs
3rd Monday of every month | 7:00 pm - ON HOLD
Mighty Moms for Special Needs Group is led by Katie Courson on the 3rd Monday of each month at 7:00 pm. Katie is a speech-language pathologist with a private practice in Charlotte. She has over 10 years of experience serving children with a variety of diagnoses. A different topic is discussed each month. RSVP via the button below and check out the latest topic and/or speaker on
Facebook
.
How can you stay informed?
Open and read the TC News!

We'd love to keep you informed about upcoming events and opportunities at Team Church. Each week, we send the TC News via email to active members and attendees. It's full of information that will help you and your family stay up to date and take next steps.
If you are not receiving it and would like to, please email
Frontdesk@teamchurch.com
with your correct email address and we will see to it that you receive it.